Gangtok Lachen Lachung ​Tour Package 4N ​5D
Travel Itinerary - New Jalpaiguri Railway Station (NJP) / Bagdogra Airport (IXB) / Tenzing Norgay Bus Stand (Junction) – Gangtok (0​1 Night​) – Lachen (0​1 Night​​) – Lachung (0​1 Night​​) – Gangtok(01 Night​​) – ​ New Jalpaiguri Railway Station (NJP) / Bagdogra Airport (IXB) / Tenzing Norgay Bus Stand (Junction)
Arrival at ​Siliguri / ​NJP Railway Station / Bagdogra Airport​ ​- and transfer to Gangtok - Our representative will be there to receive the Guest at ​Siliguri / ​New Jalpaiguri Railway Station (NJP) / Bagdogra Airport (IXB) / Tenzing Norgay Bus Stand (Junction) – He will be assisting Guest for the transfer to Gangtok –Gangtok the capital of Sikkim Suits all from tranquility to adventure, land of monastery, mystic rituals & festivals at an height of 1670 meters / 5480 feet and is the most visited spot of India - It is one of the most beautiful town with varieties of Rhododendron, Orchids and butterflies - Nearly 135 kilometers 4½ - 5 hours drive – Check into hotel – Evening free to roam around M G Marg (Mall) or local Shopping center - Over Night stay at Gangtok
Gangtok - Lachen Transfer - Early morning breakfast – Drive 135 kilometers, 5 – 6 hours drive - Chungthang is 96 kilometers from Gangtok – Lunch at Chungthang – Lachen is 35 kilometers from Chungthang Reach Lachen late afternoon / early evening - The snow capped peaks, the Shingbha wild life sanctuary, Gurudongmar Lake, Chopta Valley, Thangu are the major attraction – It's a valley surrounded by gigantic and humbling snow peak mountains and the starting point of Green Lake Trek – In fact the village cradled between stern, tall rock faces standing like guards – A hamlet with very few people – It almost like this town is hidden from the outside – Like a Shangri - La – Check into a hotel - Welcome Tea – Evening free to stroll and visit the Lepcha Village – Overnight stay at Hotel inLachen
Gurudongmar Lake Excursion & Lachung Transfer - Early morning breakfast – Visit to Gurudongmar Lake 55 kilometers, 2½ - 3½ hours drive - A valley at an altitude of 11, 800 feet through which Lachen Chu flows, generally covered with snow from December to April or even more is known as the Holy / Sacred Lake - Next drive through the cold desert till Tibet / China back to Resort for Lunch – After lunch drive to Lachung - The region is fully covered with Rhododendron forest with Chopta Valley and Thangu are the other places of interest - Back to hotel for lunch - After lunch proceed to Lachung – Nearly 50 kilometers and two hours drive – Check into hotel at Lachung - Evening free to visit Lachung Monastery - Overnight stay at Hotel at Lachung
Yumthang Excursion & Gangtok Transfer - Early morning breakfast - Guest will drive towards Yumthang situated at an elevation of nearly 11800 feet and is nearly 25 kilometers and is maximum 01½ hours drive - Its will be covered with snow most of the time - On the way you may visit the famous hot spring which is known for its curative properties of skin diseases due to its sulphur content - Yumthang is a valley near the river Lachung Chu surrounded by mountains where the tree line ends - In spring the valley erupts in riots of colors as Primulae, Rhododendrons and many other Alpine flowers in full bloom along with snow covered valley except in autumn - Over Night stay at Gangtok
Transfer from Gangtok to ​Siliguri / ​New Jalpaiguri Railway Station (NJP) / Bagdogra Airport (IXB) - One can stroll around and do some shopping and check out of hotel after breakfast - Early morning breakfast - Drive to Siliguri, on the way to Bagdogra Airport (IXB) / New Jalpaiguri Railway Station (NJP) - It is approximately 130 kilometers and 4 ½ to 5 hours drive - The road will be bit busy and jam is frequent - The drive will be along the River Teesta - Stoppage at Rangpo / Chitrey or Melli for a cup of Tea is advisable – One will travel through the area of natural beauty - Rafting on the way is an optional (Most operators are not Registered with any Government wing hence try to avoid the same) – Drive to ​Siliguri / ​Bagdogra Airport (IXB) / New Jalpaiguri Railway Station (NJP) /Siliguri - Guest are advised to start early and not to rush - ​Tour Ends
Know More...
Gangtok
---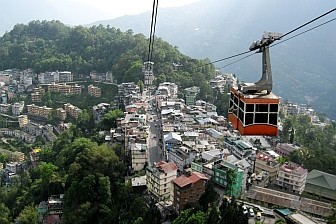 Gangtok - The Place To Enjoy Hospitality Gangtok is the capital of Sikkim, one of the smallest states in India. Situated at a distance of 120Kms fr... Read More+.
Lachen
---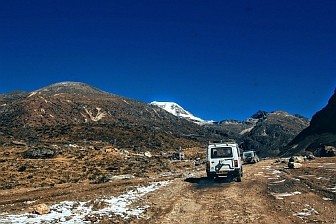 Lachen Lachen is a small hamlet in North Sikkim district of the Indian state of Sikkim. It is a restricted and protected zone. Lachen is almost 135... Read More+.
Lachung
---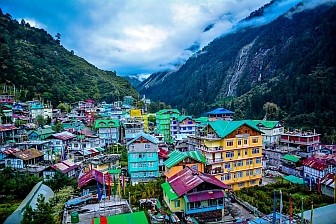 Lachung Lachung is a small town in the North Sikkim District of the Indian State of Sikkim. Lachung means 'Small Pass'. Lachung is almost 1... Read More+.